Essential oils for hair growth, 7 recipes for homemade masks
Essential oils are beneficial to the entire human body. They are widespread and popular in aromatherapy, in skin and hair care, and in medicine. Let's find out what amazing properties essential oils have specifically for hair, and learn how to use them in order to accelerate growth.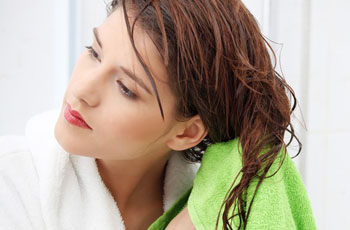 Useful properties of essential oils in hair care.
The properties of oils have been used since ancient times, they were revered by those who sought to be the owner of beautiful, healthy and well-groomed hair. They contain active components, the complex work of which has a beneficial effect on the condition of the hair, in particular, they contribute to their nutrition, strengthen the roots, give shine, and also stimulate the growth processes. Due to the improved blood circulation of the hair follicles, the sebaceous glands function is normalized, thereby eliminating the problem of scalp oily skin, weakness and brittle hair, the structure of damaged hair somewhat improves, including the state of the tips.
Essential oils for hair growth with the systematic use allow you to "stir up" a certain number of "productive" hair bulbs, which are at rest. This in turn makes the hair thicker, stronger, preventing their loss.
Essential oils for hair growth.
Essential oils, such as ylang-ylang, cloves, geranium, eucalyptus, juniper, bergamot, tea tree, cinnamon, fir, rosemary, lemon balm, sage, citrus, are mainly effective in the care and treatment of various hair problems, as well as stimulating growth.
Rosemary – has a stimulating effect on the blood circulation of the scalp, regenerating damaged, brittle and dull hair, strengthens them.
Sage – has a positive effect on the general condition of the hair, has excellent cleansing properties, is effective against dandruff and regulates the secretion of the sebaceous glands. The combination of rosemary and sage oils gives effective results.
Bergamot – in addition to the ability to influence the hair follicles, normalizes the function of the sebaceous glands, has an antiseptic effect.
Clove is considered a strong antimicrobial agent, effectively combating dandruff.
Geranium is an excellent growth accelerator, a good antiseptic, regulates the secretion of sebaceous glands, eliminates dandruff.
Cinnamon – stimulates the blood supply to the scalp due to the warming effect.
Melissa – fights dandruff, normalizes the functioning of the sebaceous glands, has a calming effect on the scalp.
Tea tree – strengthens weakened hair, eliminates itching, dandruff.
Eucalyptus – fights dandruff, strengthens the roots and stimulates hair follicles.
Fir – helps to stimulate the follicle.
Lavender – in addition to positive effects on hair growth, prevents hair loss.
Citrus fruits – recommended for oily hair, in addition to speeding up the growth processes, have a positive effect on the general condition of the hair and scalp.
Cornflower – improves blood circulation, is suitable for oily hair, it is especially effective to combine it with burdock oil or fenugreek.
Mint – nourishes the roots, increasing blood flow to the scalp.
White birch – soothes and cleans.
Ginger – accelerates blood circulation, strengthens the follicles.
Stimulating hair growth are also essential oils of marjoram, nutmeg and black pepper.
The main methods of application of essential oils.
Essential oils to improve hair growth are well added to the ready-made shampoos, conditioners (two or three drops), to enrich the mask, and also to include in the composition of home care products. Regular use of essential oils will give a visible result in a few weeks. In this case, each time you can use different essential oils. Too frequent use of oil masks with essential components is not recommended for hair, in order to prevent sufficient one use per week, for therapeutic purposes – two or three procedures.
In pure form, essential oils are not recommended for hair growth due to high concentration, only in a mixture with base (fatty, vegetable) oil (almond, burdock, olive, flaxseed, etc.). Four tablespoons of warm oil requires six drops of essential.
Recipes masks with essential oils to accelerate hair growth.
In order to stimulate and accelerate hair growth, it is effective to make masks by yourself at home with the addition of essential oils. It is necessary to do this kind of procedure regularly, especially in autumn and winter periods. Before each procedure, the composition for the mask must be made new, combining different essential oils. The composition is applied to the scalp and the entire length of the hair, paying particular attention to the roots, over the head wrap with cling film and wrap with a towel or a warm wide scarf. Oil masks with essential components can withstand well from half an hour and above. Then wash off the mask in the usual way, that is, using your usual shampoo. After that, rinse hair well with a mixture of water and five drops of essential oil that you added to the mask.
For the growth, nutrition and thickness of any hair type, this mask is effective: rub the egg yolk with a teaspoon of honey previously melted with a water bath, then add two tablespoons of olive oil (you can substitute any vegetable oil), a few drops of fir oil and three drops of rosemary. Such a mask to do three times a week. The course of treatment is included a month.
To accelerate the growth of dry hair are useful masks with olive oil, combined with essential components. You can also combine 50 ml of sesame or almond oil with jasmine oil (three to four drops).
For normal hair type, in order to stimulate growth, such a mask would suit: two tablespoons of the base (coconut, castor, almond, etc.) combined with rosemary essential oil (three drops), or two tablespoons of the base to be taken drop by drop chamomile, lavender, patchouli , geraniums, roses, ylang-ylang.
This recipe will also help to improve growth processes: combine 100-150 ml of any vegetable oil with two drops of cloves and pine, add four drops of rosemary and cinnamon.
A mixture of citrus oils is effective for improving hair growth: take two drops of eucalyptus, orange, patchouli by two teaspoons of almond oil. In addition, the mask will return shine, improve the condition of split ends, giving the hair a generally healthy and well-groomed appearance.
The combination of olive oil (10 ml) and cinnamon (no more than 2 drops) has an unsurpassed effect in hair care, stimulating hair follicles. Due to the strong effect of cinnamon, before using it, it is recommended to check the mixture on your skin for allergic reactions.
Adding orange, lemon, mandarin oil to masks strengthens the hair, has a lightening effect (especially important for blondes), and also prevents the cross-section of the tips.
Enumerate the benefits and effectiveness of essential oils for hair can still quite a lot. It is important to apply these properties in practice, not to be lazy, and then the effect will surpass all your bold hopes and expectations.
Again, before applying the oils, test your skin for allergies!